TK-PRO 620MPa
Whole imported intensifier
Main motor: Siemens
Power: 220v,415v,380v
Maxi pressure/maxi working pressure: 620MPA
Stable working pressure: 550-580mpa
Flow Rate: 2.8~5.5L/min(depend on power)
PLC: Siemens control system
High pressure tube: 100,000psi imported tube
Max stroke times: 90times/min
Max Ruby Size: 0.26~0.35mm(depend on power)
Water jet is the best solution for a thicked material.For example: if compared with laser cutting,Water jet cutting can be classified as physical cutting, and laser cutting through high temperature, will cause the formation of an oxide layer or crimp due to heat.Laser cutting is currently mostly used in the thin steel plate, part of the non-metallic materials, but for the thick metal plate, the cutting surface is not ideal, even can not cut. With abrasive water jet cutting can even cut more than 20cm steel plate, cutting penetration is much higher than laser cutting.

But normally,it will takes time for a water jet to cut thicked material in standard working pressure 350-420Mpa.Because the max. pressure of standard waterjet pump is 420Mpa.To improve this cutting situation,TEENKING designed their own 620MPa Ultra HP.Waterjet Pump in 2014, the first pump is running in Russia with the best stability, and worked more than 5000hrs so far. It contains Teenking Unique oil diagram & pressure control, the max stable working pressure is 580mpa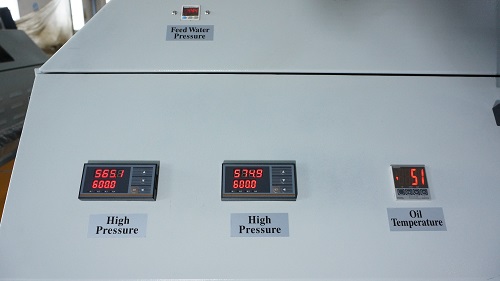 (working pressure)
More detailed images: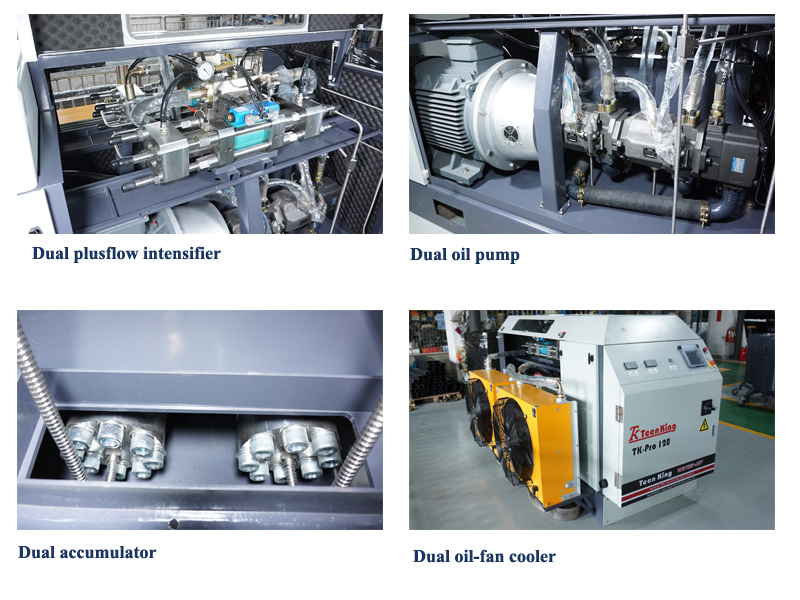 SPECIFICATIONS:

Whole imported intensifier
Main motor: Siemens
Power: 220v,415v,380v
Maxi pressure/maxi working pressure: 620MPA/580MPA
Stable working pressure: 550-580mpa
Flow Rate: 2.8~5.5L/min(depend on power)
PLC: Siemens control system
High pressure tube: 100,000psi imported tube
Max stroke times: 90times/min
Max Ruby Size: 0.26~0.35mm(depend on power)
Contact us if you are interested.